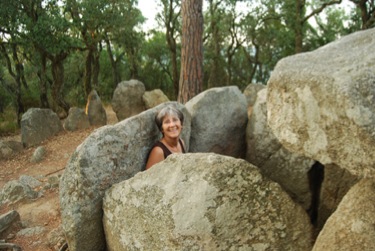 Two of my quilts – the Poulnabrone Dolmen and St. Kevin's Monastery II – will be displayed during the Second Annual International Quilt Festival of Ireland, being held in Galway, Ireland, June 7-9, 2013.

See Recent for an overview of some of the clay modeling and photoshop techniques that I used in creating my Poulnabrone Dolmen quilt.

* * * * * * *

Golden Fiber Arts (Golden, Colorado) will be hosting me for several one day classes this coming June, 2013:

Tuesday, June 4 – Reverse Appliqué
Monday, June 10 – Make a Teddy Bear in a Day (using a pattern by Joy Kelley)
Tuesday, June 11 – Insetting

Contact Tamara (303-524-4822) at Golden Fiber Arts for details or to express interest.

* * * * * * *

Also in conjunction with Golden Fiber Arts, I'm very excited that we're pulling together a five-day (again, in Golden, Colorado) intensive landscape and fabric painting class for June 24th through the 28th (Wednesday through Sunday), 2013. Similar to the class that I taught last summer at the Ghost Ranch (outside of Sante Fe, New Mexico, and home to Georgia O'Keefe in her later life), class objectives include:

"Learning fabric painting techniques capable of representing the textures, colors, and complexities of (ancient) landscapes, and creating a full range of highly textured fabric using multiple colors and palettes; and

"Using your (or perhaps those from other participants) new hand-painted fabrics, learning and working on both landscape-specific construction techniques as well as more "classic" methods (e.g., insetting, reverse appliqué, couching) that can be "repurposed" to further tell your landscape's story."

As above, contact Tamara (303-524-4822) at Golden Fiber Arts for details or to express interest.

* * * * * * *

Later this summer I'm additionally scheduled to both lecture and teach in Glenwood Springs, CO (up in the beautiful Rockies between Vail and Aspen). Sponsored by the Colorado Quilt Council (CQC), I will be lecturing Saturday, August 24, and teaching a one-day fabric painting class on Sunday, August 25. Contact CQC for details.

* * * * * * *

September 13 and 14, 2013, I'll be teaching up in Scottsbluff, Nebraska, during their Scottsbluff Valley Fiber Arts Fair (an increasingly large and very successful annual event). A one-day class (subject TBD) is scheduled for Saturday, and a (again, TBD) half-day class for Sunday. Check out www.NebraskaFiberFair.com for details.

* * * * * * *

Our son is getting married in Scotland this coming October, 2013, so I'm planning on a rather extended stay in both Ireland and Scotland this Fall (late September and the first half of October). I'd be happy to include lecturing or teaching as part of my trip; contact me to discuss setting up various venues.

* * * * * * *

The Rocky Mountain Quilters Guild (RMCQ), Ft. Collins, Colorado, is putting together a lecture and class for me in early 2014. The lecture is currently scheduled for Monday, February 10, with the class topic and date still TBD.

* * * * * * *

I'm also working with the Canyon Quilters of San Diego (CA) to set up a (series of) Southern California 2014 lecture(s) and class(es). Contact Pam Kay for specifics or to express interest.