Take a look at French TV's great news segment featuring Denise's Séminar Post Carrefour workshop (see below for more about the workshop itself). The Carrefour Européen du Patchwork Exhibition itself is briefly highlighted starting at 1:03 into the video, with Denise's segment beginning at 2:01 and running through 6:59. It's in French, of course, but somehow that makes it all the better!


* * * * * * *

Denise's next currently scheduled major event will be the 2018 International Quilt Festival of Luxemburg May 10 –13, 2018. The Quilt Festival is similar to the Carrefour Européen du Patchwork (see below) – it is held every other year, with exhibitions spanning four different villages. Denise will be a featured solo exhibitor and will also teach – similar to this year's Séminar Post Carrefour – her comprehensive, in-depth four-day Art Quilt Design Intensive workshop at the conclusion of the Exhibition (the first such major workshop that the Quilt Festival has ever sponsored). More details will be provided as the event draws nearer, but it is never too early to plan on attending!

Two weeks after Luxembourg, Denise will next be a featured solo exhibitor at the 2018 Patchwork Gilde Deutschland (Germany) Annual Meeting being held June 2 – 3, 2018, in Celle, Germany (a beautiful old timbered town located up North in Lower Saxony, near Hannover). A two-day Fabric Painting workshop is also being planned.

Then, a week later she will be a featured solo exhibitor at the multi-village 2018 Quiltfestival Noord Groningen (up in the northern part of The Netherlands) scheduled for June 8 – 10, 2018. Her quilts will take over the small medieval Church of Rottum (located in the small village of the same name). Exciting!

Denise has also been invited to teach a two-day Fabric Painting workshop May 27 – 27, 2018 in Amsterdam (arrangements are still pending), and perhaps a similar to-be-scheduled class in Eindhoven (down in the southern part of The Netherlands).


* * * * * * *

See this site's newly updated (and re-structured) quilt gallery !! Note that it includes larger photos than before, and includes several quilts that haven't been previously shown.


* * * * * * *

Denise just returned from France (September, 2017) where she taught this year's annual Carrefour Européen du Patchwork (European Patchwork Meeting) Séminar Post Carrefour (post-exhibition workshop), a four-day immersive, hands-on Art Quilt Design Intensive workshop detailing her approach to "stonescape" quilting – especially how to create the type of fabric and quilt top textures, depth of field, and perspective that characterize her work. She was very honored to be invited to teach this very special workshop, and to join the list of very select and recognized prior instructors.

Key areas of focus included fabric painting, working from photos, and "the what, why, when, and how" of selecting and effectively using different construction techniques, including: raw edge, turned edge, and reverse appliqué; insetting; free-form strip piecing; couching; and "thread shadowing" (a variation on thread painting).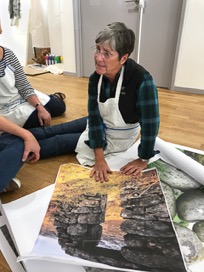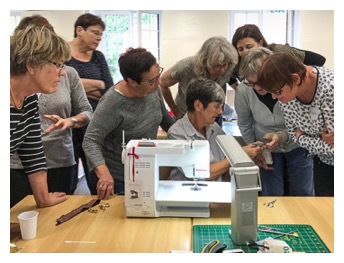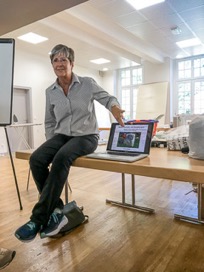 It was a great workshop. A wonderful work room, located in a small Alsacian town without significant distractions (other than good food), and just across the street from our very comfortable (and very accommodating) hotel. Lots of light, huge windows, and more than enough room to continue painting (the main focus of days one and two) even after bringing out the sewing machines (for days three and four). Thanks to Bernina for providing machines for each of the nineteen students. Participants came from seven different countries, and really bonded; everyone is already staying in touch with the goal of displaying their (still-to-be-completed) quilts in their own gallery at next year's September 2018 Carrefour Européen du Patchwork Exhibition. Everyone was both sharing and caring, with many often working (very) late into the night – just for the fun of it! The work was remarkable.

The Carrefour staff was also great – everything was ready to go, and well planned and managed, with no frantic scrambling around at the last minute trying to somehow make sure that everything was actually available and in its place. The workshop's reputation (as well as that of the Exhibition itself) is well earned.


* * * * * * *

Upon completion of the Séminar Post Carrefour, Denise attended Turin's (Torino, Italy) "Manualmente" Exhibition (Lingotto Fiere), where a comprehensive collection of her quilts was on exhibit. In addition to visiting the Exhibition (co-sponsored by Quilt Italia), she taught a one-day Construction Techniques workshop.

Quilt Italia was the best possible host, and Denise was treated to two very personalized tours of Turin, starting off, of course, with "Italy's best gelato". The workshop was great fun, and very well attended – outside teachers tend to be somewhat of a rarity, and the attendees were amazingly eager to learn and absorb everything possible. Denise can't wait to return.

* * * * * * *

Further out, Denise will be teaching a full five-day Art Quilt Design Intensive workshop August 25 - 31, 2019 at the Hudson River Valley Art Workshop (USA). Mark your calendar and join us at this very well known and highly respected US artist retreat and premier art world teaching venue!


* * * * * * *

Denise's Latest Quilt: "Friary Steps" (completed August, 2017; 40" Wide x 34" High):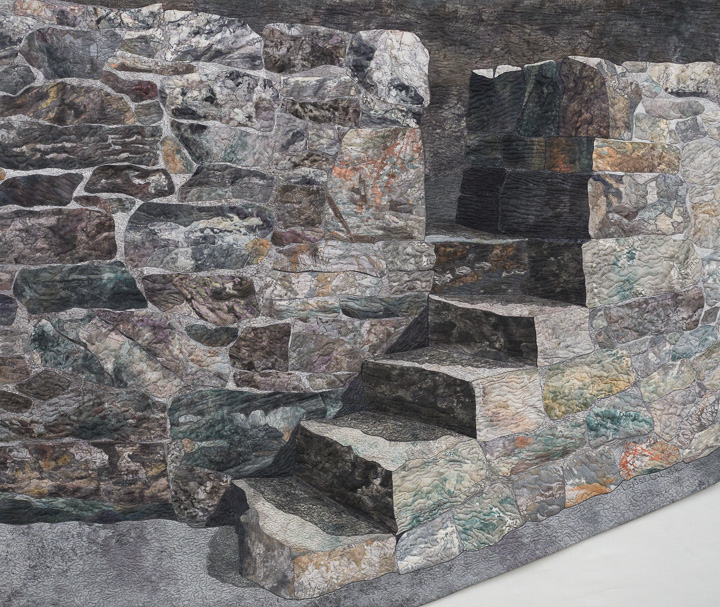 * * * * * * *

Denise will also be giving a number of March, 2018 local Colorado presentations and one-day Construction Techniques workshops, including for: the Palmer Divide Quiltmakers (Colorado Springs, Colorado), the Columbine Quilt Guild (Arvada, Colorado), and Front Range Contemporary Quilters (Westminister, Colorado). See Class and Lecture Schedule.


* * * * * * *

Denise just finished exhibiting "Cathedral Arch at Glendalough" (a new 2017 quilt, below) at "75: An Art Quilt Celebration" which ran from August 25 through October 27, 2017, in Boulder, Colorado (The Dairy). This exhibition was an art quilt celebration in honor of Judith Trager's 75th birthday, and Denise was delighted to participate; Judith was (and continues to be) an important and early mentor, and Denise is deeply appreciative for Judith's friendship, artistic insights, and continuing support.


"Cathedral Arch at Glendalough" (completed in April, 2017; 38" wide x 50" high)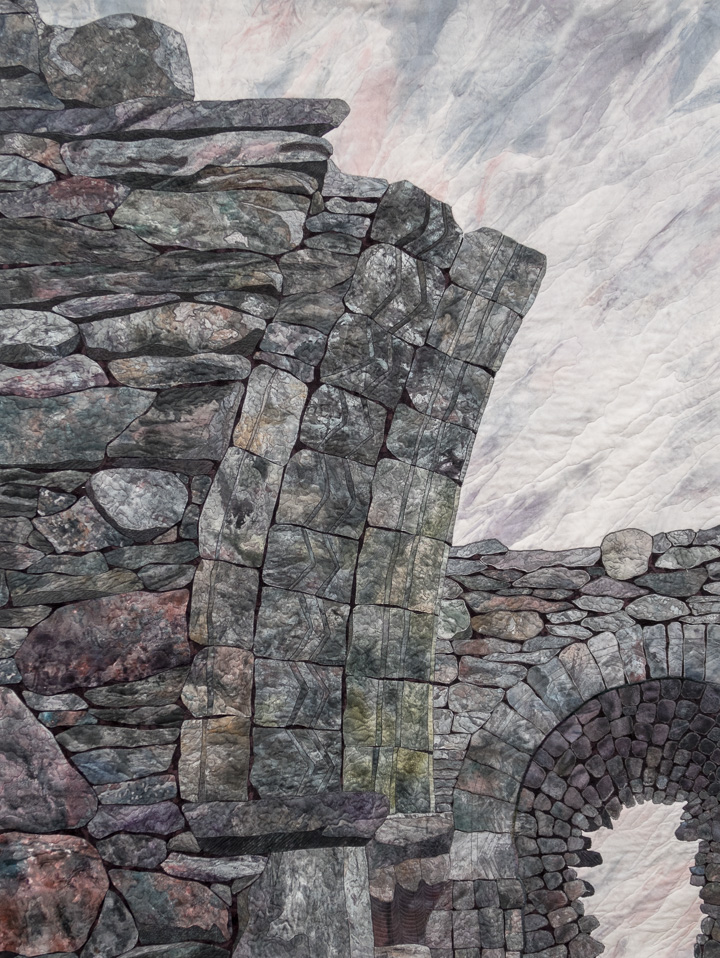 Detail

* * * * * * *

Earlier this year Denise attended South Korea's QFIK 2017 ("Quilt Festival in Korea", April 22 – 24, 2017), sponsored by the CQA (Corea Quilting Association), where as a featured solo artist she not only exhibited but also taught (her one-day Construction Techniques workshop) and lectured. See photos below. Everyone was so wonderful, welcoming, and friendly; certainly the conference folks, but also – as an example – getting lost after wandering around Seoul and having absolute strangers taking her by-the-hand and getting her to the (correct) subway line. And so many beautiful, small, very thoughtful, hand-made presents and gifts given to Denise by many of the attendees.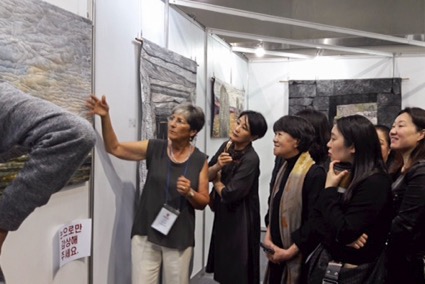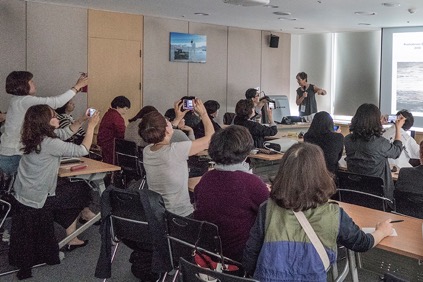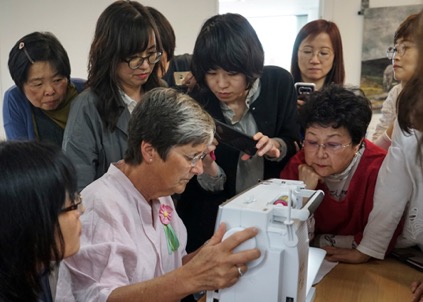 The quality of the art was absolutely top notch. It's a well-established, medium sized show – thus very approachable – and all of the selected work (primarily from Korean quilters) was of the highest quality. The CQA was a great and caring host, and ran a very well managed show. Quilting is alive and thriving in South Korea! Thank-you to all involved.


* * * * * * *

Flying back from Seoul, Denise took a detour to Lincoln, Nebraska to attend the annual SAQA conference. Here she is (very jet-lagged) presenting an overview about her approach to quilting and her body of work at the conference's banquet.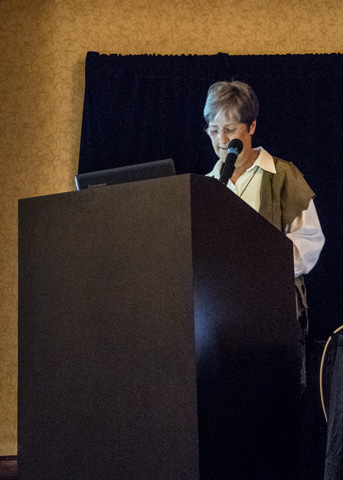 * * * * * * *


This and last year Denise has been the subject of multiple feature magazine articles.

Early this year, major in-depth articles and photo spreads profiling Denise and her art were published in the January, 2017 editions of Quilt Italia (Association Nazionale di Patchwork), the Italian National Quilt Guild's quarterly magazine, and in Art Quilt Collector (Issue #6), a quarterly SAQA publication (she was a previous SAQA Featured Artist back in May, 2012). Her work was also recently featured in "Stitching Rocks" in the September-October, 2017 edition of Machine Quilting Unlimited (USA).

During the second half of 2016 additional feature articles were similarly published in four major international quilting and fiber art publications – Burda Patchwork and Quilting Magazine (France and Germany), Magic Patch Magazine (France), Art Quilting Studio Magazine (USA), plus the Corea Quilt Associates (CQA, South Korea) semi-annual national newsletter.


Art Quilting Studio Magazine (USA), Featured Artist, Summer 2016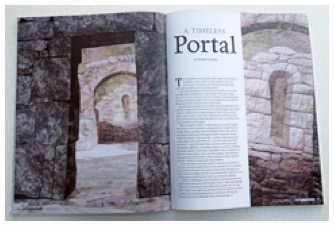 Magic Patch Magazine (France), Featured Artist, September-October 2016 (#124)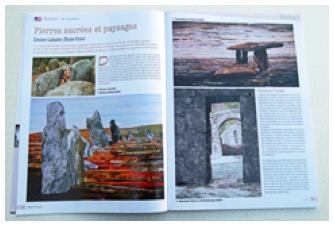 Burda Patchwork and Quilting Magazine (both France and Germany), Featured Artist, November 2016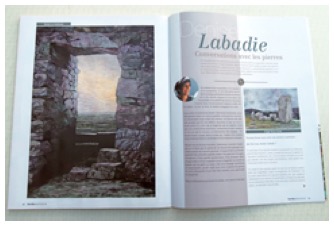 By the way, for a fun and more "historical" perspective of Denise and her work, take a look at The Quilt Show.com (on-line video, #106); she was one of the very first Quilt Show guest artists profiled in this now decade-long video series.

* * * * * * *

Late last year (October, 2016) Denise was a featured artist and instructor at the 2nd Annual 2016 China International Patchwork Invitational Tournament and Patchwork Arts Show, held in Beijing.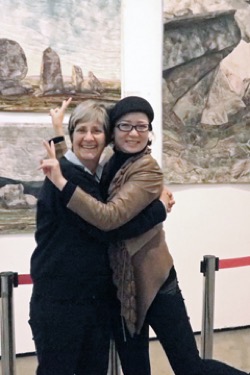 This is a major new Asian exhibition highlighting both domestic (Chinese) and a select number of international quilt artists. The Chinese love patchwork and quilting (they showed some amazing and innovative quilts, plus some truly astonishing stitch work), and intend to make this show into a major international showcase – they are eager to share their country's fantastic breadth of quilting (the show highlighted work from many of its indigenous regions and peoples), very much want to learn about new techniques and approaches (particularly the innovative use and application of color), wish to meet and interact with other quilters and, in general, want to become mainstream and active members of the growing international quilting and fiber arts family.


In addition to exhibiting and teaching (working with her students was one of the highlights of the trip), Denise also joined other invited international attendees – from Singapore, South Korea, Germany, Portugal, and the USA – in jurying the exhibition's multiple quilt competitions.

Befitting its pending importance as a key quilting venue, the exhibition was held at Beijing's International Design Center. Show management were the most cordial and welcoming of hosts, bending over backwards to make the trip truly memorable (as did their wonderful interpreters, including Vivian Tam who is seen in the photo to the right). Denise was honored to be an early invitee and participant.

* * * * * * *

Denise's participation as a featured artist – with ten quilts – in last year's 22nd European Patchwork Meeting and Exposition (
Le Carrefour European du Patchwork
, September 14–18, 2016) in Sainte Marie Aux Mines, France, was a fantastic experience and success. This most prestigious of all continental European quilt exhibitions hosts 20,000+ worldwide visitors each year, completely "taking over" three adjacent villages within the Alsace's lovely Val d'Argent. It was both wonderful and overwhelming for Denise to be an invited exhibitor at this most remarkable of fiber art events; the significant positive feedback from the many visitors purposefully seeking out her exhibit was also rather stunning.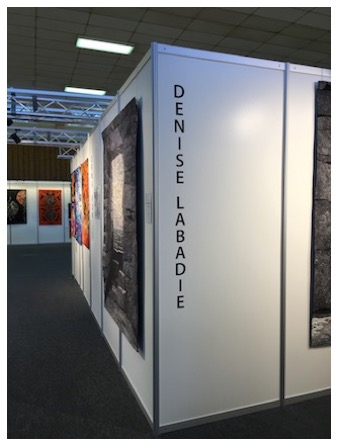 See a nice photo summary of Denise's exhibit published by the Festival's organizers.

* * * * * * *

Denise is often asked about her construction and layout techniques. A particularly interesting example of her willingness to experiment with new techniques was her use of clay 3D modeling and Photoshop to help visualize the deep shadowing found in her Poulnabrone Dolmen (click to see write-up).


* * * * * * *

During Le Carrefour European du Patchwork, multiple visitors wanted to know about Denise's earliest stone quilts.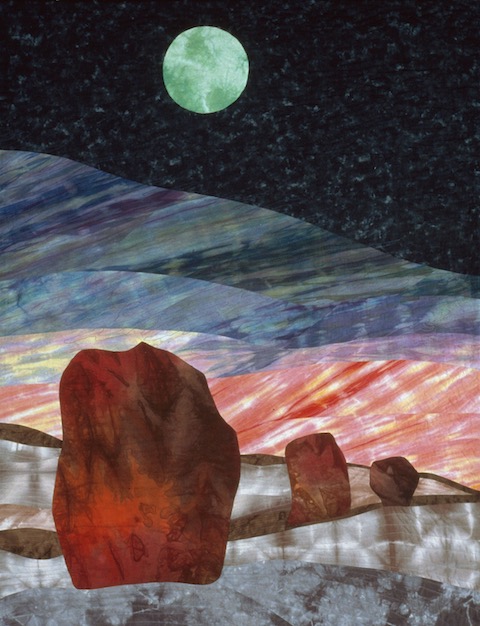 Piper Stones I (1998)
34" Wide x 44" High


Piper Stones I (above) was Denise's first contemporary stone art quilt. Lovely colors, and an obvious but raw talent, but little (or no) use of shadowing, depth-based perspective, or texture changes. Her works have most certainly evolved over the past two decades!

For fun, compare the above Piper Stones I quilt with the same scene made three years later: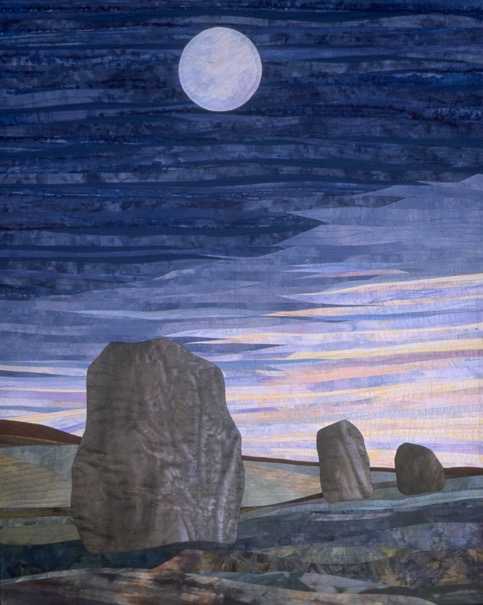 Piper Stones II (1998) 44" Wide x 36" High


But Denise actually made an even earlier "stone" quilt – a variation of a traditional Irish Chain patchwork design, with the diagonals being the stone walls and the green being the fields of Co. Donegal's (Ireland) rugged, stone-hewn pastures: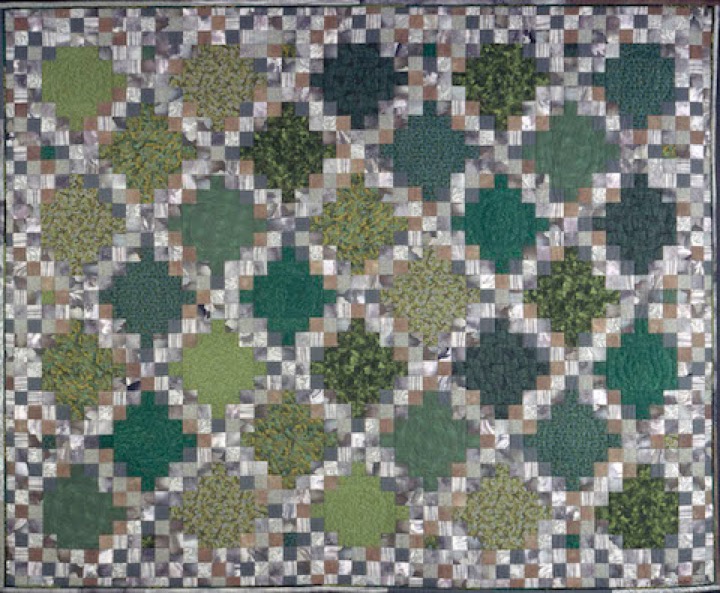 Fields of Donegal (1994)
71" Wide x 60" High